Attention! Due to the restrictions caused by the pandemic, the schedule below is out of date. I provide all information regarding the situation in the club by phone 605 522 758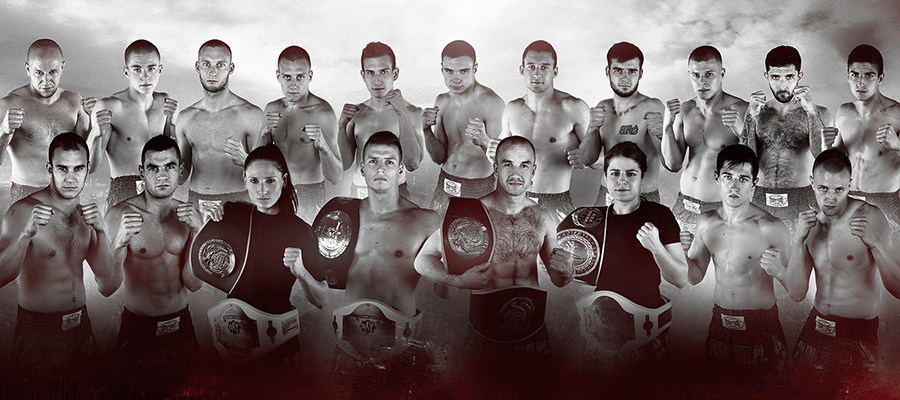 JOIN US. We welcome you at any skill level. Our classes will help You achieve your current goals and challenge You to take them to the next level.
Puncher Wrocław Gym is one of the leading Kickboxing and Muay Thai centres in Poland. We improve our teaching skills in MMA and Boxing dynamically. Puncher Wrocław Gym has been the home to many of the best professional fighters and champions. They have won a number of amateur World, European, Polish champion and vice champion titles and have captured World Cup medals. Besides amateur successes we have also taken part in professional competitions, where our fighters have won many World and Polish Champion belts. The champions take part in many prestigious, both Polish and international, events regularly. The transmissions of the Kickboxing and Muay Thai fights are broadcast by Eurosport, Fightbox and Polsat Sport.
Classes
We train everyone from complete beginners to professional fighters. Our group MMA, Grappling, Muay Thai, Kick Boxing and Boxing training sessions are available for every person. You can enlist and join us throughout the whole year. Getting started is very simple, we have beginners starting every single day, and You are very welcome to come 15 minutes before the training to join us. Our skilled, knowledgeable and very approachable instructors take care of your progresss.
Costs
Monthly Costs
"Classic" – 140 zloty per month enables you to take only one class per day plus a one off joining fee of 10 zloty to purchase a membership card.
"Premium" – 160 zloty per month enables You to take unlimited classes plus a one off joining fee of 10 zloty to purchase a membership card.
Pay per class
If You "pay as You go" all our classes cost 30 zloty each. We accept systems: Benefit Multisport Plus, Fit Profit and Ok System.
Personal training sessions
They are one-on-one training sessions for 60 minutes. Each personal class costs 130 zloty. A 10 session package costs 1100 zl but it must be used within 2 months. Private training sessions at Puncher Wrocław are made by appointments.  Please call us at +48 605 522 758 and +48 730 190 901 for English speaking.
Contact Us
Puncher Wroclaw (Gymbox)
Mikołaja Reja 13f (it is located in the backyard)
Tel: +48 605 522 758 and +48 730 190 901 for English speaking
email: biuro@puncher.pl
Timetable
| | | | | | |
| --- | --- | --- | --- | --- | --- |
| Levels | Mon. | Tue. | Wed. | Thu. | Fri. |
| MMA, kickboxing Kids |   | 16.00 |   | 16.00 |   |
| Muay Thai & Kickboxing Basics | | 17.00 | 20.00 | 17.00 | 20.00 |
| Muay Thai & Kickboxing Beginners | 17.00 | | 17.00 | | 17.00 |
| Muay Thai & Kick-boxing Advanced & Competition class | 18.00 | 18.00 | 18.00 | 18.00 | 18.00 |
| MMA, grappling – Wrestling | | 19.00 | | 19.00 | |
| MMA, grappling – BJJ | 19.00 | | 19.00 | | 19.00 |
| MMA, grappling – basic | | 20.00 | | 20.00 | |
| Muay Thai & Kick-boxing Intermediate | 20.00 | 21.00 | | 21.00 | 21.00 |
| Boxing | 21.00 | | 21.00 | | 21.00 |